Being young and tech savvy is no guarantee you won't be a target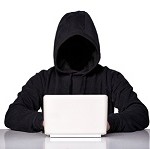 A survey published earlier this year by fraud prevention specialists Cifas, shows that people aged 30 years and under are the group most targeted by hackers with identity fraud in mind.
Identity fraud is the result of identity theft, a process where fraudsters access enough personal information (for example full name, date of birth, current address and so much more) to enable them to obtain goods or services using the victim's identity.
According to their research, adults aged 18-24 are less likely to install a security solution on their mobile devices as 50% are confident that they would never fall victims to online scams (compared to the national average of 37%). Interesting thinking when the figures also show that 86% of identity fraud committed in 2015 was online.
With so much of our lives, both personal and in business, now conducted online the resources available to the fraudster are immense. Phishing emails, malvertising and malware of various kinds are all methods by which attackers may use to elicit confidential information which can be used to commit online fraud.
However, social media platforms are also a major hunting ground for identity thieves and whilst Facebook, Twitter, LinkedIn and other online platforms are not the preserve of the young, there is no doubt that the majority of 18-24 year olds are significant social media users.
One area of concern is the amount of personal information that users post; details about family members, location, favourite things, pets and future plans to name just a few. This wealth of information enables the hacker to build information on a victim and can be enough to provide clues to critical credentials such as passwords and logins.
Another issue is the poor use of privacy settings for online platforms.
To make the point, Cifas conducted an experiment. With the promise of a free coffee and croissant, participants were asked to 'like' the café's Facebook page. A team of background researchers then searched across public websites to find as much personal information and data as possible, all within a maximum time period of three minutes. That data was then radioed through to a barista, who wrote it on to a cup and handed it to the unsuspecting customer.  Hidden cameras captured their 'baffled' reactions. The resulting video can be seen here and is worth a watch.
Cifas make the point that education about online security is poor, only 34% of 18-24 year olds learnt about it whilst at school and they are working with organisations such as City of London/Action Fraud, Get Safe Online HMG's Cyber Streetwise Campaign and Financial Fraud Action UK to share the research and heighten awareness.