Have your emergency contact available even when your smartphone is locked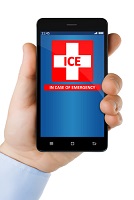 Up to a few years ago most of us had our emergency contacts saved on our mobile phone under the name ICE (in case of emergency), this would allow anyone who needed to contact our loved ones to quickly find the details on our phone. However, with improved security measures, nowadays most smartphones are password protected and can't be easily unlocked by a third person in case of emergency.
These days we go for a run or just quickly pop out to buy milk or bread with our phone on us but not carrying ID, this is why it is very important to keep this information accessible so that we can be identified and receive the right help in case of emergency.
So how can this important information be found if you have an emergency, need to help someone who needs medical attention or you need to contact their family?
Luckily for us, software developers have thought about quick and easy ways to save emergency contacts in our smartphones and allow others to look for medical information and critical contact numbers.
So, let's look at the different ways of saving this vital information on different smartphones.
Of course, you will probably only have one device but it's worth reading how it works across all the different smartphones in case you need to help others in an emergency situation.
iPhone
Any iPhone running an updated software has now a little app called "Apple Health", this app can track your physical activity and your sleep, and many iPhone owners may already using it for this purpose. But the app also allows the user to save a Medical ID accessible from the locked phone carrying important information such as medical conditions, blood type, allergies and emergency contacts.
How to set this on your iPhone? Just follow some simple steps:
Look for the Apple Health app and open it, you will see that the app allows different actions: activity, sleep, mindfulness… These are all very useful if you want to keep track of your lifestyle and improve it, but what you're looking for now is the little icon saying Medical ID on the bottom right.
Found it? Great, now tap on it and open it! First, you will see "Show when Locked" at the top, make sure this is turned on or green. This will allow whoever needs to access your Medical ID and emergency contact numbers to find them when your phone is locked.
Now fill as much information as possible about yourself and your medical conditions (if you have any); if you're not sure about allergies etc, you may want to write "None known".
After filling out all the above, scroll down the screen and look for "Emergency Contacts". This is how you add contact information for your ICE, the app allows you to have more than one, just click on add. Remember that the app only inserts people stored in your Contacts and it automatically uploads all the information you've saved on them.
Now hit done and save it!
To make sure everything has been saved correctly lock you phone and then click on the home button, but don't unlock it, just have the passcode screen. Once you have the passcode screen, you should see "Emergency" either at the top or the bottom, click on it: this will take you to the emergency call screen, here you should see Medical ID on the bottom left, click on it. Now your medical information and ICE contacts should be visible and accessible, are they?
Android
Unlike the iPhone, Android doesn't have a pre-set app for emergency contact, but you can still insert ICE information on some versions of Android. Go to your phone contacts, at the top you should have an ICE section where you can put your emergency contact details.
If you don't have this option you can try the following:
Go into your Android phone settings
Search for "Lock screen and Security"
Here you should have a section "Info and Apps shortcuts", open it and look for "Owner Info", here you can write a short message with ICE information and medical notes and these will appear on your lock screen.
If your version of Android or your device doesn't have these features, there are some very good apps available on the Android store, but it's worth noting that Android doesn't allow all apps to run with the screen locked, so you may want to carefully read the app details before purchasing it.
Windows Phone
Like Android phones, Windows phones don't come with a pre-installed emergency app, but you can download or purchase an ICE app from the store. As with Android, make sure you read all terms and conditions so that you're sure that your phone won't block the app from showing with the phone locked.
Some smartphone owners have ICE information stored as a note as their lock screen image, it's worth noting that any information stored as a note on you lock screen is more readily available to anyone who picks up your smartphone. For this reason it is recommended that a pre-installed or purchased app is more secure.
Finally, when purchasing apps be aware that many have data sharing policies that might allow them to share your data with third parties and for security, apps should only be purchased from official app stores such as Apple App Store or Google Play.