Palm Sunday
OK, so all of this working from home has got us thinking here at CF Systems about the evolution of devices that have helped us on our journey towards current levels of mobility. If we're honest, its also an excuse to get in the line about "Palm Sunday", a terrible but hopefully well timed gag if ever there was one.
Its hard to imagine, that only a generation ago, the current working from home levels would have been impossible. Of course, underpinning this all has been the invention of the World Wide Web, but we thought it might be nice trip down memory lane to look at some of the mobility enabling devices we have personally used down the years. So, in (roughly) date order;
Toshiba T1000LE
One of the very first widely commercially available laptops and my own very first portable device. Launched in 1990, the T1000LE included a 9.54/4.77 MHz Intel 80C86 chip, a whopping 1MB of RAM and a 20MB hard drive. The T1000LE was one of the first machines to facilitate remote and home working on any sort of scale and is now a sought after collectors item.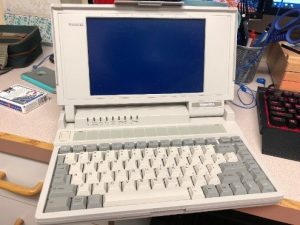 Psion Series 3C
The original handheld device, the Psion was produced in a variety of guises during the 1990's but my own Series 3c was the first device to make a fundamental difference to my productivity out of the office. Its robust case, full keyboard and long battery life made it usable and its ability to manage real documents including word processing and spreadsheets enabled it to be truly integrated with working requirements. Its contacts program could even make phone calls by emitting a tone that could be held against a telephone receiver! In all, Psion produced over 1.5 million Series 3 devices.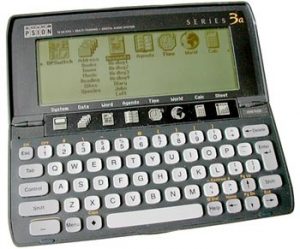 Nokia 6310i
A history of various mobile phone handsets could form a book in its own right, but I'm including the 6310i here, not just because I had a number of them myself over the years, but also because of its iconic status as one of the best business phones ever – its robustness and battery life are still legendary. It was also the first phone I ever personally owned that included a WAP web browser, making it a precursor to the modern smartphone.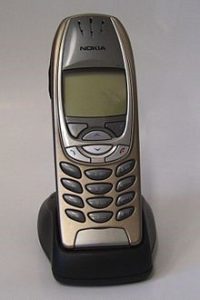 Palm Pilot
Its hard to believe now, but at its peak (it was first launched in 1997), the Palm Pilot was almost ubiquitous amongst business people who travelled for managing contacts, taking notes and even sending emails and calendar invites through its ability to synchronise with a PC. Its screen was arguably one of the first widely adopted touchscreens and enabled a user to input information using a stylus and its own "graffiti" character set. It was also available with a number of accessories including an innovative space saving folding keyboard. I'd also like to thank the device for facilitating the title of this post…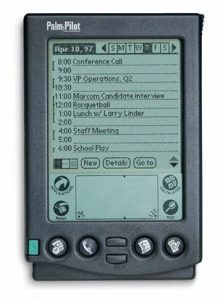 HTC Tytn
I'm including this device because I had one and because it was amongst the first wave of fully featured "smart" phones that were as adept at internet and email usage as they were for phone calls. In fact I recall that the interface of the Tytn was far more useful for email usage than making phone calls… The device included a proper keyboard that slid out from under an early (very small) touchscreen, 64MB of RAM and one of the early versions of Windows Mobile (complete with Office applications).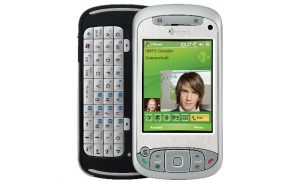 iPhone 1
Inevitably, this post ends with the device that changed the way we work to the one we recognise today – the original iPhone. Launched in 2007, the iPhone was the first device to do away with the traditional keyboard and operate on a touchscreen only basis. Very much the output of the personal vision of Apple founder Steve Jobs, the device was introduced by him as being a combination of three devices: a "widescreen iPod with touch controls"; a "revolutionary mobile phone"; and a "breakthrough Internet communicator". Very few electronic devices can claim to have had such a significant cultural impact as the iPhone.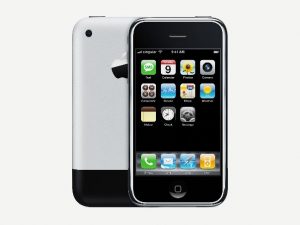 We hope that you've enjoyed this trip down memory lane. If you'd like to talk about more modern methods of enabling remote working, please get in touch with the CF Systems team. Otherwise, it just remains to wish you a very Happy Easter (including PALM Sunday)!