CF Systems supports Cornwall Air Ambulance Trust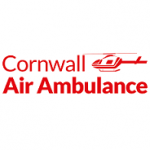 CF Systems are pleased to announce that we have chosen Cornwall Air Ambulance Trust as our company charity.
The rugged and rural nature of Cornwall and the Isles of Scilly represents a unique challenge for the emergency services and every year Cornwall Air Ambulance flies around 800 missions delivering fast and effective medical care to patients.
 It is a particularly exciting time for the charity – with the arrival of a new helicopter and a dedicated back up which will be equipped to fly at night.  This means that in winter they will be able to continue their life saving work beyond 5pm when they normally need to go offline due to it being dark. They estimate that by being able to fly 12 hours a day all year round this will mean that they can attend to between around 50 more incidents a year.  The Cornwall Air Ambulance Trust receives no direct government funding or National Lottery grants for running costs and relies on its many supporters to raise the £2.5 million required to keep it airborne.
This year, CF Systems decided not only to support the Trust, but as a first step to donate the funds normally set aside for Christmas gifts for its clients. Managing Director Graham Bray, pictured presenting a cheque to Cornwall Air Ambulance Head of Fundraising Susie Smith, said: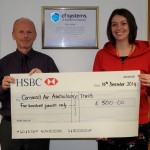 "I am delighted that CF Systems are able to support such an important Cornish charity and I am sure that our clients will wholeheartedly agree that this is a worthy cause. We will be working with the Trust to find other ways of supporting them in the coming months"
Susie added: "It is wonderful news that CF Systems have decided to support Cornwall Air Ambulance instead of buying gifts for their clients – with support such as this everyone in Cornwall has the reassurance of knowing that the Cornwall Air Ambulance aircrew are on hand 365 days a year to help those in need. We really look forward to working with all of the staff at CF Systems in the coming months and I know that they have lots of great fundraising ideas up their sleeves for in the new year!"